Upgrade to GoodBarber 4.0 today!
Written by Muriel Santoni on Monday, July 17th 2017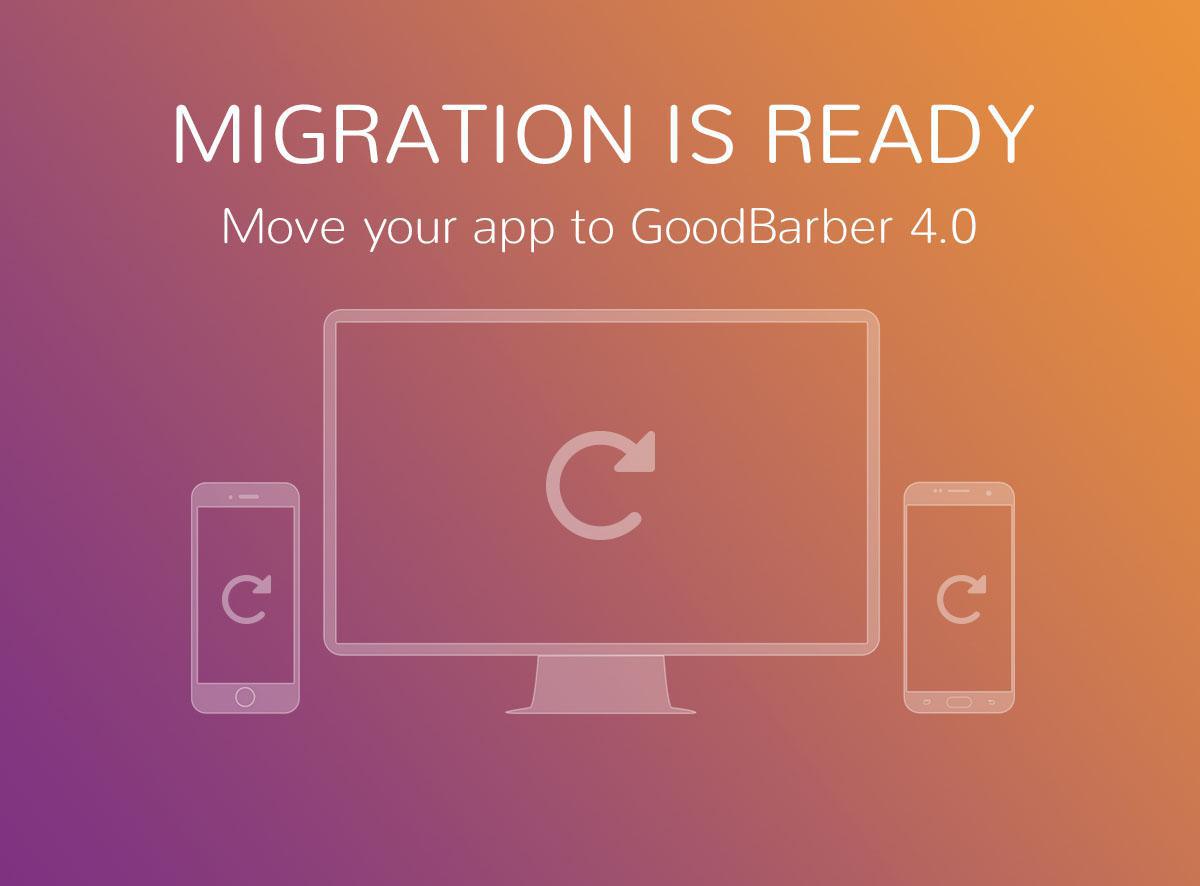 The moment you've been waiting for has arrived: you can finally migrate your project to GoodBarber 4.0 and take advantage of all the
new features the platform has to offer
. We've spent a lot of time making sure the migration of your project will be as smooth and painless as possible. With this in mind, we've designed a wizard that will guide you through each step to get you using the new platform quickly and effortlessly.
Why should I go through the migration process?
As you know, your app is made up of a large number of parameters that make it unique and allow it to meet your project's needs.
Currently, it's being run by parameters formatted to work under GoodBarber 3.5. The release of GoodBarber 4.0 introduced many new updates, in terms of content as well as design. Therefore, in order to enjoy these new options, it's necessary to switch your project into GoodBarber 4.0. The goal of the migration process is to ensure continuity between the versions 3.5 and 4.0 of your project, by simply reinterpreting the existing parameters.
With this migration process, your app will maintain all of the parameters you've already set up (with the exception of a few particular cases).
Key steps of the migration
The migration process starts out with a detailed presentation about what's new and what you'll get once you switch to GoodBarber 4.0. In addition to an introduction to the new backend, you'll find explanations on the modular Home, the new navigation mode and NavBar management system, and of course the Progressive Web Apps, the biggest update in GoodBarber 4.0.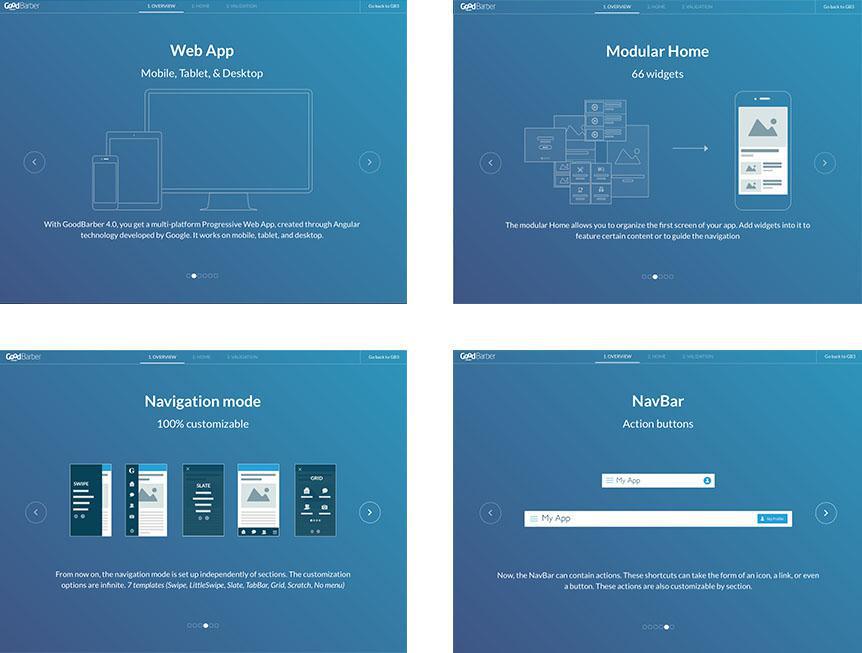 This step also allows to you to get to know the new tool you'll be working with, the new GoodBarber backend.
All of these updates are details that will help perfect your app and contribute to unparalleled user experience.
The second step of the wizard is related to setting up the modular Home
, which is the first screen of your app, giving you the option to choose which content you want to highlight to users and even to structure navigation within the app. At this step in the migration process, you'll be able to choose whether or not you want to activate the Home section. It's not a final decision–you can always go back later after the migration is complete and activate/deactivate it.

The final step consists of launching the migration process, which can take 2-15 minutes, depending on the number of sections your project has. You'll receive an email once the process is done.
Exceptional cases
We contemplated the migration process down to the last detail so that as many details of your project as possible could be maintained during your switch to GoodBarber 4.0. However, there are a few special cases:
-If your app contains a
Plugin section
, you must
update the GBJS Toolkit
once the migration takes place.
- The navigation modes Typo, Large Type and TabBar Pro are no longer available in GoodBarber 4.0. If you use one of these in your project, an extra step will be automatically added to the migration process where you'll choose a new navigation mode.
- People who use advertisements in the web version of their app will have to be a little patient...
And after?
Once the migration is finished, the first thing you should do is to check all of the sections in your app. Almost all existing parameters will be saved, but sometimes there may be some small adjustments. We suggest you go through all the pages in your app to make sure everything is consistent. The best would be to use My GoodBarber iOS or
My GoodBarber Android
to do this.
Then, so that your users can take advantage of the new version of your app, you'll have to rebuild it and submit an updated version of it to the stores.
How do I get started?
If you're ready to discover GoodBarber 4.0 and take your app to the next level, you can get started with the migration process through the URL /manage/migrate.

Then all you have to do is sit back, follow the guide, and enjoy the upgrade!